Cripple Creek Realty of Sierra County is located at 405 N. Date Street #7 in Truth or Consequences.
LaNeer Wrye, Owner, Cripple Creek Realty
(575)740-2711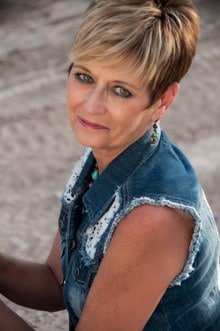 Qualified Broker LaNeer Wrye, a native New Mexican, was born and raised in Las Cruces. As a child she enjoyed many weekend trips with her family to play at Elephant Butte and Caballo Lakes. In 1984, she became a full-time resident of Sierra County, moving first to Animas and then to Truth or Consequences. She has been selling real estate since 2006.
LaNeer and her husband Jody stay busy tending to their ranch in Bingham, NM and take great joy in spending time with their children and granddaughters. She still finds time to play, enjoying water sports, snow skiing, dancing, four-wheeling and riding horses at the ranch. She also loves to collect and create Southwest art.